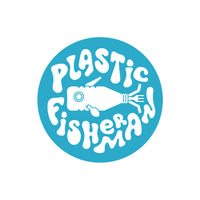 Let's go #plasticfishing!
@PlasticFisherman is an organization and a global educational project dedicated to bringing awareness to marine plastic pollution's dangers and inspiring action.
Our mission is to teach people about the negative impact of plastics on the marine environment and propose solutions through creativity, art, and circularity.  
Your support helps us catch more plastic and reach more people, so thank you for stopping by.
join our community
Thank you Plastic Fisherman for inspiring me to get creative with the ocean plastic. I'm wearing my Plastic Fisherman tee with so much pride. It makes me feel like I'm part of a really fun movement.

Sophie, Miami / @CleanMiamiBeach
It's not just a nice t-shirt. It's a statement and a call to action.

Filipe, Oahu / @filmello
I'm so glad that the plastic fishing movement has reached Germany, and I'm proud to wear it.

Dagmar, Düsseldorf / @Rheine_Freude_749